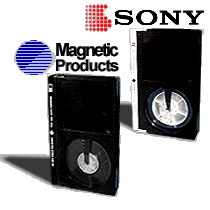 How To Purchase
Simply enter the quantity you wish to purchase in the box below and press the "ADD THIS ITEM" button. The next window will verify your item and add it to your list. (Quantity limitations apply. You will be notified if your order cannot be completed in full.)
Special Video Cassette Buys
Here are some interesting special cassette lengths. All are new and of excellent quality. The L-125 lengths are Sony. These are perfect for editing and camera work where a longer tape would be a liability. Recording time is thirty-five minutes in the Beta II speed. The L-250, L-370, L-560 and L-625 lengths were manufactured by Magnetic Products Corporation, a producer of tape specifically for video duplication labs. They are of very high quality (because of the standards enforced by some very prominent names). All of the inventory listed, including the Sony L-125 was purchased as surplus from some of those customers. No inventory was obtained directly from the manufacturers. The L-250 is 65 minutes in BII. The L-370 in BII yields 95 minutes, which makes it an ideal length for the bulk of Hollywood movies. The L-560 at 130 minutes is good for features or events that run just over two hours and the L-625 records slightly move than two and a half hours*. Your purchase includes-
New High-grade video cassettes
90 day, good as original warranty*
Bulk wrapped in blocks of ten
For the best picture keep your video heads clean by using the Copyright premium cleaning cassette. For more information click here.
Shipping: Within 48 hours of order confirmation. Recording times indicated below are for BII speed.

---
---
---
---
---
---
*Recording times in the Beta III speed:
L-125: 50 minutes
L-250: 95 minutes
L-370: 135 minutes
L-560: 200 minutes
L-625: 235 minutes

*Check out the
Misterßetamax
warranty in the "Warranty info" section or click
here
.
For help ordering see the sample price panel by clicking here.